Final Earth Rider Brewery tanks have landed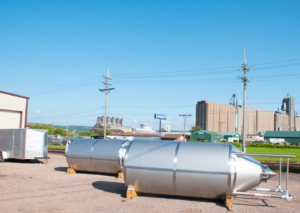 Earth Rider has received the second and final delivery of brewery tanks today. The delivery and install work added two 40-bbl fermentors, two 20-bbl fermentors and a 40-bbl bright tank to the previously delivered brewhouse. Equipment already installed includes a 20-bbl combination mash/ lauter tun, 20-bbl boil kettle, 20-bbl whirlpool, and 60-bbl hot and cold liquor tanks. Brewery installation work will continue next week.
Earth Rider's brewing team expects to start brewing by late September and releasing the first brews by late October.
This time-lapse video of our 20-bbl bright tank going up.